This Christmas was amazeballs, and not just in the gifting department. I mowed so much, I gained 4.8 lbs! I love love-handles! So worth it. It's not crop-top season for another 4 months soo dgaf...
Below are some of my favorite gifts!
I got lots of good stuff that will aid in the putting on of my face every morning. Armani silk foundation is pretty much unbeatable, especially with the primer, application brush, powder with my new Mac powder brush, and Mac setting spray! That shit ain't goin nowhere! I also got a really nice blush from Mac, and my favorite ever eyeshadow palette by Urban Decay, Naked. Khiel's skin products are ALWAYS a hit with me. I serio love that shit. And the best Mac makeup case- most of these goods are the courtesy of Jenny Ann Simmons and Sementhol Bukie. So in right now!
I didn't get a piece of jewelry I didn't like this Christmas, which is rare coming from a Cuban family who own a jewelry store (Latin Gold, mang)... I got really cute cupcake earrings, Betsey Johnson bow studs from my prima Nicole, and a perfect-for-Peach Tous ring with a beHr on it! So chic
Definitely one of my favorite gifts- my extra soft and cozy new bathrobe! I mean, I wear a robe at least an hour every day- it needs to be amazingly comfortable so that I always run late for work cuz I can't bear to take it off.
I call these my stoner goods. Chocolate, chocolate, and more chocolate. I mean, what more can a girl ask for? (a record player? Nintendo 3DS? Bicycle? New PowerBook? European vacation?....)
The toblerone is obvi already mowed so I'm gonna move on to the Gems tonight.
Oh and I can't forget my amazing apple pipe! And dope on a rope! Thanks secret Santa! The pipe is actually really dope cuz Of the shape. No matter what, I don't get cashed bud in my mouth after its sucked thru the bowl-- it just falls onto the bottom part of the inside of the apple--- yippee!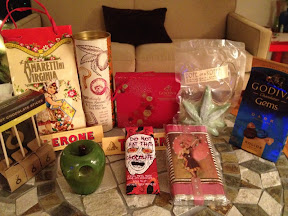 I've been dying for some new attachments for my standing mixer, particularly the ice cream maker and the juicer-- I didn't even know I wanted the scraper beater (scraper beater...), but it turns out I do! Really bad!
This is my cocktail collection-- I've needed a superfine colander for awhile so yay!
The corker is also really cool cuz it's plastic AKA not fragile, but it has an aerator built into it! Totes crucial- Cuz I'm classy!
Oso Libre wine key yeahhhhh
Muddler! Who's coming over for mojitos?
I'm really excited about my waterfall decanter system. I drink a lot of wine (duhz) and I don't own a nice decanter let alone a whole aerated system. Two thumbs up, Charin!
Nosh bowls! In ganja green! Perfect for milk duds, sour patch watermelons, Tabasco cheez-its....
Umbrian chickpeas and tomato paste! Not mowable on their own but.....
I love my decorative spoon measurers-- in fact, I picked them out! So cute. Thanks mom
And the salad crisper-- I'll let u know how well it works... Should I try it with a sativa salad?
I'm really excited about my mini loaf pan! Dropping loaves all dayZ!
And I swear I've been asking for a batter dispenser for forevaaa (thanks Mom)
Illy coffee I use for baking cuz its the best. But I can't afford to drink it on a daily basis $uck$$
Robostir- could there be a better gift for stoners who cook? I love things that promote laziness!
Hope you all had a nice holiday:)))
Peach